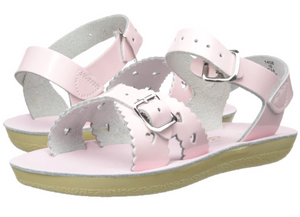 Sweetheart Sandals in Shiny Pink by Salt Water Sandals comes in a sweet shiny pink, with scalloped edges and heart shape cut-outs! Shiny Pink is part of Salt Water's Premium Range. They make the perfect kids' sandals for a day out at the beach!
You can go from sand to sea without having to kick off your shoes.
The Sweetheart is fully adjustable with buckled toe and ankle straps. Just as robust as the Surfer but a little bit girlier. Great for all feet shapes.
Please note that due to the crimped edges, we suggest softening in water prior to wear.
All children sizes are made with a velcro fastening under a faux buckle across the ankle strap for day to day ease. The entire Sun-San range also comes on a spongy urethane soft sole with rust proof buckles.

Made of 100% waterproof cow leather sandal upper and rust proof buckles.