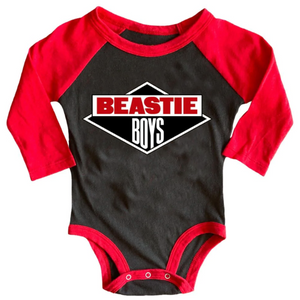 "I am known to do the wopAlso known for the Flintstone Flop Tammy D gets biz on the crops Beastie Boys known to let the beat Mmm, drop!"
- Beastie Boys
now 100% recycled cotton

One of our all time favorites Beastie Boys meets our classic Rowdy Sprout piece- our retro raglan onesies are inspired by real vintage tees!
Available in two sizes up to 12M.
Made in the USA!

Fabric Content-100% recycled cotton