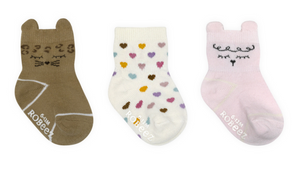 Cotton-Polyester-Spandex blend is thin, soft, and ultra comfortable.
Stretchy, durable fabric allows feet to move freely all day long and combats wear and tear.
Kick-proof elastic gathering is designed to stay snug against the ankle, so socks actually stay on.
Skid resistant application on the sole helps prevent slips and falls.
Comfort seams are softer and thinner than the seams of most kids socks on the market.