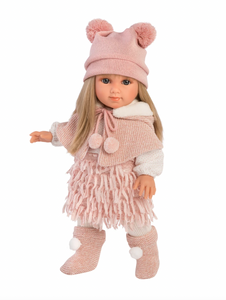 Kimber is the height of fashion wearing corally-pink fringe skirt, white polka-dot shirt and hooded cape with pom-poms. Her pom-pom booties simulate boots and adorable hat has dual pom-poms. Long straight blonde hair and blue eyes.
Doll play encourages nurturing and teaches children about themselves and the world around them. In addition, fine motor and self-help skills are developed by dressing and undressing dolls.
All Llorens dolls are crafted in Spain.
Fully jointed moveable vinyl doll made with soft, phthalate free vinyl. Clothes are made from high quality polyester and cotton fabrics and are finished with strong details. 
Recommended for ages 3 years+.
Not anatomically correct.