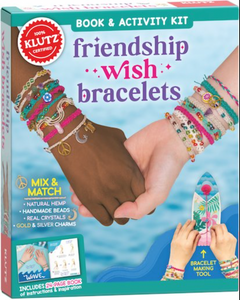 Craft wishes between friends!
With 90 feet of hemp in three vibrant colors plus real crystal beads, rainbow glass beads, handmade clay beads, unique charms, and a special surfboard weaving tool, kids will get to make up to 20 unique bracelets to share with their friends.
As kids weave, they can repeat the included "wish spell" to encourage positive, hopeful thoughts. When their bracelet falls off (after having worn them for a long, long time), their wish will come true!
Playful superstition and creativity inspire lasting friendships with the Klutz Friendship Wish Bracelets.
Klutz Friendship Wish Bracelets
Kit for making up to 20 wish-infused friendship bracelets
Encourages fine motor dexterity, creativity, friendship, hopefulness
Features 90 feet of hemp in 3 colors plus a variety of unique and beautiful beads and charms
Repeat the "wish spell" as you weave to infuse your bracelet with a wish
When your bracelet falls off after a long time of wearing it, your wish will come true! (pretend)
Includes hemp in 3 colors (30 feet each), 60 glass beads in 6 colors, 5 crystal rock beads in 5 colors, 2 clay beads, 4 charms in gold and silver, shell clip, surfboard weaving tool
24-page book of ideas and inspiration included
High-quality materials - Exceptional crafting experience