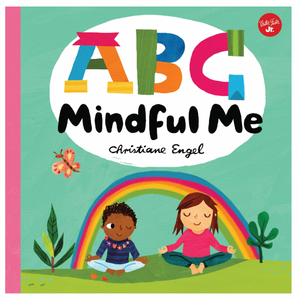 Pairing simplified mindfulness principles with each letter of the alphabet, ABC Mindful Me features colorful illustrations of children and animals, as well as playful rhymes to explain each concept to toddlers (and their parents!).

From Awareness to Zen, and everything in between, take a deep breath, find some quiet space, and

 

discover the magic of mindfulness!

 

A fun read for the entire family,

 ABC Mindful Me 

is not only perfect for

 

teaching toddlers their ABCs,

 

but also for introducing them to key mindfulness tenets which promote

 

physical and mental wellness

 

through breathing, compassion, gratitude, and kindness.

These

 

key concepts

 

will help to grow young readers' concentration, listening skills, and ability to manage emotions, stress, and anxiety. And after the letters, learn more about mindfulness and how it can help you, as well as some

 

additional activities

 

to try, including:
Emotion rocks to help you express your feelings
Mandala art and nature art

 

to help you focus and relax
Thankfulness tree

 

to help you remember all you have to be thankful for!
The
playful rhymes
and charming illustrations in
ABC Mindful Me
encourage children and their parents to pay attention to the present moment, which will help to
calm the mind and body
in order to discover the peace and happiness within.
With endearing illustrations and mindful concepts, the 
ABC for Me series
 pairs each letter of the alphabet with words that promote big dreams and healthy living.